June 17, 2016 – Don Bosco Basement, Talisay City, Cebu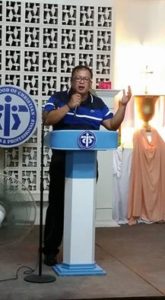 Brother Rodien Paca led the praise and worship to the lord in the month of June with a theme, PRAISING GOD in the SPIRIT of PEACE & RECONCILIATION. The activity was attended with many members of the BCBP Talisay Community.
It was a very spirit-filled activity with tears and emotion flowing in the air with felt presence of Lord and HIS SPIRIT.
Many shared emotions and God's glory during the event.