January 23, 2016 – Alta Vista, Pardo Cebu City
Fifteen Years ago, the first breakfast fellowship started at Talisay with the Leadership of the Brotherhood of Christian Businessmen and Professionals (CEBU SOUTH). Talisay was then the Outreach target of the BCBP South Chapter and annually BCBP Talisay celebrates this annual event of Mission works.
This year the 15th Chapter Breakfast Anniversary was held at Alta Vista, Pardo, Cebu City. Holy Mass started the whole event celebrated by the priest from Pardo Father Edwin Pilario. Then the breakfast fellowship followed hosted by Brother Clifford Villaflores.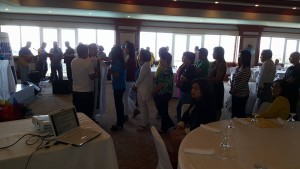 The main sharing of the breakfast touched the once the hearts of 80 attending members from Talisay and 4 first timers. The whole governance team of Argao Outreach also showed their support to their mother Chapter. The mission of spreading of good news still continued and at stronger level at its 15th year. God messengers for this breakfast fellowship was from BCBP CEBU NORTH Chapter, Brother MANNY AND SISTER TESS JUANILLO.
(Sources : BF team, Secretariat)