December 5, 2015 – Alta Vista, Pardo, Cebu City
BCBP Talisay or Brotherhood of Businessmen and Professionals of Talisay celebrated the Christmas with Spirit, Love and Care. The party hosted by the Mananay Couple was held at Alta Vista, Pardo, Cebu City last December 5, 2015.
The different teams of the BCBP Talisay worked together for the success of the event. The celebration started with the FORMATION ministry coordination of the HOLY Mass conducted by Fr. Martin and two Associates.
The Mission Ministry invited the Mission team and the Outreach team from Argao to join the Alta Vista party to make the event complete with joy, smiles and camaraderie. The PSD Group Social Ministry also invited the BCBP Talisay Scholars to join the party. The sponsors met their respective scholars and gifts were given. The BCBP scholars also presented dance presentations to the delight of the audience.
DAYGON Contest was help participated by the different UNITS of the BCBP Talisay. Argao Outreach team was the runaway winner of the celebration. UNIT Chan was the FIRST RUNNER-UP and UNIT ALGOSO was the 2nd Runner-UP.
It was a really a great presentation for the LORD.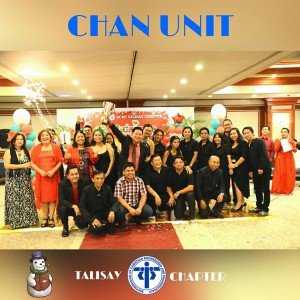 CHAN Unit
(Sources : Facebook, Bro Jason, Secretariat)