November 29, 2015 – Chowking, Starmall, Talisay City Cebu
Brother Clifford Villaflores dressed in dashing black coat was not there for a dance number but to glorify God's works in his life. He delivered his first sharing in front of the 30 members, guests and breakfasters of the Brotherhood of Businessmen and Professionals, Talisay Chapter last November 29, 2015 at Chowking Restaurant, Starmall, City of Talisay.
It was a great day to honour and glorify the Lord as brother Clifford lifted the hearts of everyone for the GLORY of God. The breakfast fellowship drawn one first timer and he was the brother of Bro Clifford, DENNIS VILLAFLORES.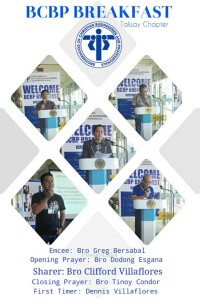 The Whole Breakfast Program
The ladies BCBP in a separate simultaneous activity has also very good successful fellowship and sharing led by Sister Susan Daclan.
(Sources : Facebook, J Pasana, Secretariat, Bfast Team)