Reflections by ROD NGO, NAC36 CHAIRMAN (October 7, 2015)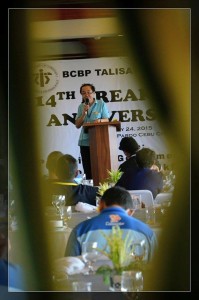 After my term as Chapter Head ended, ashamed as I am to admit it – I felt relieved. My spiritual work is finished. I've finished. Or so I thought.
Last May 2, I was appointed chairman for NAC36, or 2016 36th National Anniversary Celebration of the BCBP – with attendees expected to reach at least 4,000 in number. Oh. My. Lord.
As chairman – what does this job even entail?
Over the past few months since my appointment, I've been bombarded with endless comments and suggestions – food should be this and that, raffle prizes should include this and that, among many, many many many needless-to-mention details. Bringing these to mind, I become afraid.
Being human, I am afraid. In spite of my experience, my confidence is shaken. There will be disagreements. Voices will grow louder, disagreements more imminent. Over the planning course, our true characters will be tested. I ask myself and I call on each planning member to look inward and do the same.
Three questions. Am I experienced? Am I competent? Most importantly, do I have the Godly character to organize a community celebration as large as this?
Yes, I am experienced. Yes, I am competent. I am led by the Spirit of God, empowered by the grace of God, and propelled by the love of God. As for that Godly character to lead His people, I cannot say.
But I can try. I appeal to all of you to look at our anniversary celebration in a whole new light. Let us make the 36th N.A.C. stand for something – let us create a whole NEW APPROACH TO CELEBRATION. In order for this to mean anything, we have to establish a few answers to the most pressing questions surrounding this event.
WHY do we celebrate? HOW do we celebrate?
Luke 10:38-42 "As Jesus and His disciples were on their way, He came to a village where a woman named Martha opened her home to Him. She had a sister called Mary, who sat at the Lord's feet listening to what He said. But Martha was distracted by all the preparations that had to be made. She came to Him and asked, "Lord, don't you care that my sister has left me to do all the work by myself? Tell her to help me!" "Martha, Martha" the Lord answered, "you are worried and upset about many things, but few things are needed – or indeed only one. Mary has chosen what is better, and it will not be taken away from her."
We celebrate the presence of Christ, our main celebrant – by listening to Him through our fellow believers. We celebrate through communal worship. I write and share this so I may not forget. Let our concerns lay mainly on our relationship with Jesus, and His presence in our lives. Let us remove our focus from the food, the raffle prizes, the transportation and t-shirts, the airlines and delays. Let us cleanse our hearts of all these mundane things – so we may focus on Him. Help me remember.
If food is bad, are we not supposed to fast? If traffic is terrible, can't we walk?
Let us walk together. Let us go the extra mile for our God. And while waiting for His coming, let us look onto 1Thessalonians5:14. Let us encourage one another, console one another. Let us learn to forbear; let us learn to forgive.
Lastly, let me ask you. Why are you attending NAC2016? Send me your honest answer. I'm serious. My email address is rodngo@yahoo.com. I look forward to hearing what you have to say. – 609w