October 4, 2015 – Argao
It was a big and long day for the BCBP Talisay members and Argao Outreach team yesterday at Argao as the BE HONEST Campaign launched at Argao in preparations for the bigger event later that day which was the installation of the ARGAO OUTREACH as a formal BCBP Argao OUTREACH.
The campaign started at 2:00 pm with the Casa Real as the Assembly Point. After 30 minutes, the motorcade composed of all the BCBP Argao Outreach members and the BCBP Talisay Chapter roamed around the City of Argao. There was a ceremony followed like the "UNVEILING OF THE BE HONEST SIGNAGE",  followed by the short of Brother Lindy Alfar about the BE HONEST CAMPAIGN.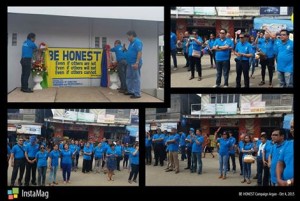 Mayor Edsel Galeos delivered inspiring speech about the BE HONEST campaign in his city and as always gave his 100 percent support of the BCBP program in front of the different members and guests of the community from local chapters and nationwide.
At 4:00 pm, the whole motorcade transferred to the Parish Pastoral Center of Argao for the Mass and Installation proper.
(Sources : Facebook, Secretariat)