October 4, 2015 – Argao City, Cebu
Brotherhood of Christian Businessmen and Professionals Argao (BCBP Argao) was officially declared as OUTREACH yesterday at the Parish Pastoral Center of Argao as endorsed by the BCBP Chapter Head Brother Greg Bersabal, RCD Region South Brother Ani Serrato and Area Managing Director Boy Villanueva with the presence of the National President Brother Joey Avellana.
BCBP Talisay hold the first satellite breakfast last June 29, 2014 and barely a year and 3  months after, it is officially declared as OUTREACH. The BCBP Talisay hold two BCLP's at Argao as the preparations of the OUTREACH level. They have officially 46 members at this time.
The installation program preceded by the BE HONEST Campaign in the whole city and by the HOLY MASS celebrated by Rev Fr. Socrates Cabanig. It was followed by the endorsement programs of the chapter head, RCD and AMD.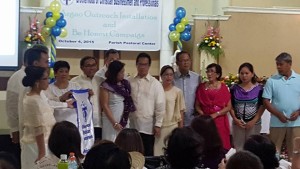 The present officers of the ARGAO OUTREACH were also called and installed officially in front of many guests, members of the community and Argao BCBP members.
HOLY MASS PROGRAM
Celebrant                           :              Rev Fr. Socrates Cabanig
First Reading                      :              Bro Willie Adonay
Psalms                                 :              Bro Dritz Pontillas
Second Reading                :              Bro Joven Egos
Prayers of the Faithful     :              Hermes Estrada
Irvin Paul Camarillo
Paul Isaac Dizon
Jenelyn Gacis
Offerings                            :              Candle – Paul Belocura
Candle – Marilou Sardido
Flowers – Rosendo & Flordeliza Botero
Wine – Eduardo Lumayag
Host  – Mesel Remoroza
Host – Martina Matsumoto
Host – Charissa Mae Sanchez
Chalice – Bro Greg Bersabal
Ciborium – Sis Beng Bersabal
Lector                                 :              Bro Judge Jun Dumdum
INSTALLATION PROGRAM
National Anthem
Opening Remarks :              Bro Greg Bersabal
Inspirational Talk     :              Bro Ani Serrato, RCD Southern Region
Message from BCBP President : Bro Joey Avellana
Presentations
Closing Remarks :              Bro Boy Villanueva, AMD Visayas
Closing Prayers :              Bro Lindy Alfar
Emcees                :              Bro Albert and Sis Janet Mananay