September 12, 2015 – Starmall, Talisay Cebu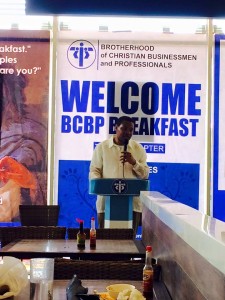 Fr. Martin Illuszue, CSSP of the BCBP Mactan Chapter shared his life and God's Glory at the Kusina ni Gerry, Starmall, Talisay, Cebu as September 12, 2015. The breakfast fellowship was hosted by the BCBP Talisay and has drawn two first timers, Bermejo Couple, to hear the God's glory and victory through the human lives story.
Bro Jun Dumdum and Sister Gingging led the program as the emcees while Quinain couple, Bro Shikki and Sis Nadel led the prayers.
(Source : Facebook)