September 26, 2015 – Alta Vista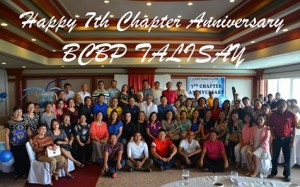 Brotherhood of Christian Businessmen and Professionals of Talisay Cebu Chapter (BCBP Talisay) celebrated its 7th CHAPTER ANNIVERSARY at the full-packed hall of the Alta Vista, Pardo, Cebu City in front of so many guests and members of the community. The celebration started with the HOLY MASS celebrated by the BCBP Mactan Priest Fr. Martin Illuszue, CSSP and two other priest from Africa, Fr. Lawrece Orazulume and Fr. Gabriel Amobi.
The event hosted by Brother Jr. Chan opened formal fellowship with good breakfast and lechon donated by the Birthday Celebrant Sister Opay Algoso. Then it was followed by the introduction of the may first timers including the guests from Africa who became the first timers as well. The event was graced with 5 first timers.
The Main sharers were no other than the Area Managing Director Boy Villanueva and Sister Nena Villanueva. The sharing touched so many hearts of the attending community of brothers and sisters.
The celebration also launched the FIRST STATE OF CHAPTER ADDRESS (SOCA) of the Talisay Chapter Head Brother Greg Bersabal. He discussed all the past and pending activities of the BCBP Talisay in carrying out the works and wonders of the LORD ALMIGHTY.