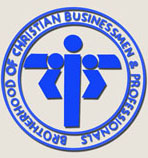 The logo of the Brotherhood of Christian Businessmen & Professionals captures the very essence of the organization.
 The Cross in the middle of the logo symbolizes Christ, who is the heart of the Brotherhood. Christian tenets and values are central to all endeavors of the organization.
The arm of the cross – indeed, Christ's outstretched arms – welcome all who come under His salvation and love.  It symbolizes, too, the mission of the group to increase its members by evangelization.
The twin figures on the logo's foreground are the two active groups of the Brotherhood – businessmen and professionals. They are bent in adoration, typifying the brothers' acceptance of Christ as Master and Redeemer.
Finally, enveloping all the elements of the logo is a circle. It represents the unity of the Brotherhood – one in purpose, one in spirit, one in Christ.