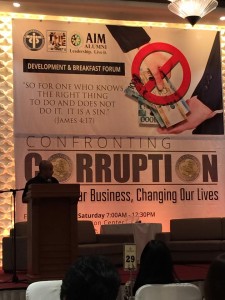 February 28, 2015 – Grand Convention, Cebu City
Brotherhood of Christian Businessmen & Professionals (BCBP) of Cebu City in cooperation with Asian Institute of Management (AIM) launched its first Business Forum entitled "CONFRONTING CORRUPTIONS: Changing Our Business, Changing Lives" held at Cebu Grand Convention Center starting 7:00 am to 11:30 am.
Three Distinguished speakers were invited to deliver at three different topics. Professor Ron Mendoza, Ph. D (AIM Policy Center Executive Director) delivered "Good Governance is Good Economics" delivered the first talk with outstanding data and statistics regarding corruptions in the government, political dynasties and wealth accumulation of politicians.
Former Senator and Fellow Christian Brother Joey Lina discussed the second talk "DON'T BE JUST AGAINST CORRUPTIONS, SUPPORT REFORM", where he related his stories in governance as Senator, Governor of Laguna and time in politics.
The last talk was delivered by Atty Alex Lacson, President of Solidarity for Transformation Philippines and it was about "BUILDING BRIDGES OF HOPE AMIDST CORRUPTION".  He gave out so many ideas in grassroots leadership and how we can transform Philippines from lowest level.
The Second Part of the Program was the panels discussion regarding various topics and questions given by the audience. The speakers were joined by Brother JOEY AVELLANA, National BCBP President and Miss TERESA CHAN (AIM Alumna), President Cebu Chamber of Commerce & Industry Inc. The discussion was moderated by Brother Jourdan Polotan of BCBP North clarified so many questions and views as well as ACTION PLANS regarding the topic of CONFRONTING CORRUPTIONS.
The event was attended by  large attendance of about 800 persons from different representatives from the media, KBP, IBP, Social & Civic Organizations, Private Corporations, Religious Organizations and BCBP members.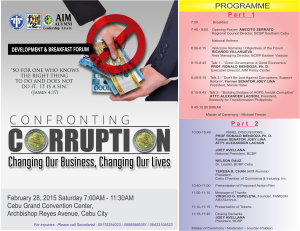 (Sources : Facebook, Secretariat)