January 24, 2015 – Alta Vista, Pardo Cebu City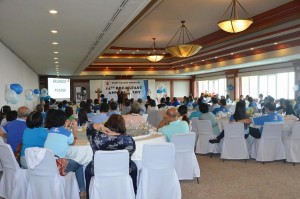 The Fellowship and Celebration Place
BCBP Talisay celebrated the 14th Breakfast Anniversary not only with Breakfast Fellowship but also with formal Recognition ceremony full of fun, prizes, surprises and games. Welcome Addressed delivered by no other than the BCBP Talisay Breakfast Head Concon Quisaot, who delivered an eye-opening remarks about breakfast evangelization.
The ceremony was also graced with the wondrous remarks of the Brother Rod Ngo, former BCBP Cebu South Chapter Head and currently the Regional Formation Coordinator for BCBP Visayas. With his wit and humour,  he delivered unparallel speech about service to the community while practicing a businessman and hotelier.
Recognition was done to all the brothers and sisters who have served the Talisay Chapter for the last 14 years. Invaluable SERVICES to the LORD, Community and people should not be left unappreciated.
The current leaders and servants of the BCBP Talisay were also recognized and presented along with all the Unit Leaders and Action Group Leaders.
Brother Greg Bersabal formally closed the fellowship and celebration with the Mission MUSIC MINISTRY singing afterwards.
(SOURCES : PSD TEAM, Breakfast Team, Facebook)